About Us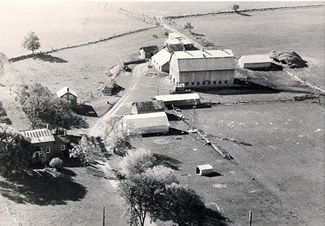 In 1915 my Great Grandfather Thomas Duncan Creighton purchase the property and began Maplevale Farms.

Dairying was introduced in 1936 when two purebred Ayrshire cows were purchased at a sale in Eastern Ontario. From that point on my Great Grandfather and my Grand Parents Duncan and Norma Creighton continued to develop purebred genetics mainly in the Ayrshire breed but Jerseys and Holsteins could be found on the property as well.

In 1970 tragedy struck with a barn fire and all animals were lost but one Ayrshire, one Jersey and one Holstein.

After starting up the dairy herd once a new barn was built, it was decided in 1975 that the dairy cows would be sold off. The farm would then be converted into a purebred Hereford cow operation. Over the years since, the beef herd has developed into a more commercial herd with a few commercial cows still on the place today.

In 1987, new neighbours move in to the farm two properties over and they were developing a herd of purebred Jerseys. Don, Steve, and Peggy Holmes moved Kingsdale Jerseys onto the road in late 1987. In the summer of 1990 Holmes asked my parents if I would be interested in showing a calf at the local fair. At that point my involvement with the Jersey breed started. After working with the Kingsdale herd for a few years I decided I would like to own some of the brown cows myself. So in the spring of 1995 Maplevale Jerseys was born. It started with a purchase of a Legend Merit daughter with Holmes' at the Ontario Invitational Sale that spring, along with the addition of two good pedigreed heifers from Kingsdale.

Since then, I have had the privilege of owning and working with a number quality Jerseys under the Maplevale name. Including the All Canadian Sr. Yearling from 2002, Huronia SD Gretchen whom I was part owner of at one point in time.

Now the herd is growing and the goal is to produce the all-round Jersey cow. Strong type and the ability to fill the milk pail are both very important components in today's industry. We at Maplevale are trying to build on strong cow families that have been purchased over the last couple of years and breed quality genetics that are desirable in the current marketplace. Although we are not milking a barn full of cows at this time we are building for the future and with the goal of someday having a barn full of sound structural cows who are able to fill the milk pail.