Lencreast First Terra (VG 87(2-4))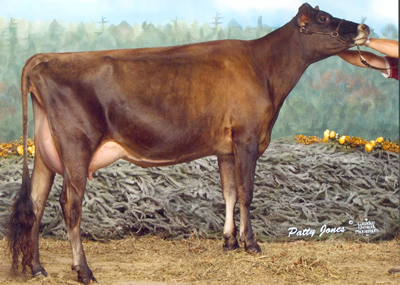 Photo by Canadian Livestock Photography Inc.
Date of Birth
September 5, 1999
Classification
VG 87(2-4)
Current Owner
Kevin Reichard & Max Bollenbacher
Sire
Bovi-Lact First Prize
Dam
Kingsdale Ren Terra Ex
Tanya's Full Sister!!

LIFETIME (1LACT 163DAYS) 3330M, 154F,4.62% 120P, 3.60%
CAN-EBV:(08/03) -403M, -24F,-0.07% -13P,+0.03% RPT.51%
CAN-ETA:(08/03)+10 FC,40% RPT,96 RK, +331 LPI

4TH SENIOR THREE YEAR OLD, OHIO SPRING DAIRY EXPO 2003
4TH SENIOR YEARLING, RAWF 2001
1ST SENIOR YEARLING, AYER'S CLIFF FAIR 2001
3RD SENIOR CALF, CENTRAL ONTARIO CALF RALLY 2000

Sold for $19,000 in the Spring Selection Sale, 2002.